Antique furniture auction rooms are very exciting and fun places to visit, but for a first timer, the experience can be rather daunting, especially if one doesn't know what exactly to expect. That being said, the following is a helpful guide to show you what to look out for when attending an antique furniture auction.
You definitely want to be prepared, so what you should do first is to take a look around at the auction and its items prior to ever dxeciding to bid. If you're able to do so, it's a good idea to visit a day ahead of time. While you might incur extra gas costs and use up some time, it could keep you from making an error that cost you money during the auction.
Take notes when looking at the different antique furniture items that you are thinking about buying. You should also be exploring routes to get to items of interest quickly, as there can be many different lots. You don't want to be caught wondering aimlessly during the auction, which can cause you to waste time and mess a good deal.
It is also important to purchase a catalog that you can make note of the items of interest. You might even develop your own coding system, marking definite items of interest and putting question marks and no's beside the others. You can also figure out price limits, making note of those beside the items, as this can help keep you from getting too enthusiastic and impulsive when bidding during the live auction.
You want to carefully examine each piece of interest because the antique furniture items sold during the auction are purchased "as seen." It can be helpful to have a magnifying glass on hand so that you can identify any abnormalities, such as tears or scratches. If there are any items in boxes, you want to examine and look through them very carefully to make sure that nothing is broken throughout the box.
At these auctions, there are also sometimes hidden pieces that are under tables and in corners. Make sure you don't miss anything such are not passing up one of the biggest bargains on antique furniture items.
The following are a few rules that are suggested concerning the inspecting of items while you're at the auction.
Make sure that you look closely at the underside of furniture as well as the backs for any damage were repairs that are quite obvious. Also, check out the dovetail joints and inside any drawers. Is there a makers nameplate? There should be one, and it typically can be found on a furniture item's underside.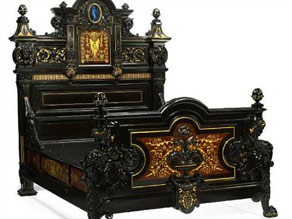 Any glassware and China you're interested in bidding on should be checked for cracks and chips. Furthermore, lightly tapping a chamber pot or face should not be followed by a clunk sound. This generally means that there is a great possibility of a hairline crack in the piece. During the preview, you might notice that certain items are not present. Typically, this is because these items are very small, and this means that they can easily be carried out the door. All you have to do is ask an assistant or the auctioneer himself in order to see them while you're previewing the auction. If there is a reserve price listed for an item, this means that the seller can withdraw the item if it does not fetch a particular dollar amount. Make sure you ask about reserves on any items so that you know if they are worth your bid.
Upon arriving at the auction sales room, you want to remember how adrenaline can affect you. Remain calm so that you can be observant of competitors in the room. Also pay attention to the auctioneer, as some are known for bidding off the wall, which is a term used to describe taking for 10 bids in order to drive up the price. Be mindful of your endgame for each auctioned item, and don't let the atmosphere carry you away tour you end up paying too much for an item.
Finally, you definitely want to enjoy yourself. After using this advice and hitting up a few auctions, you're going to grow your confidence and be more experienced with bidding. That way, you always ensure that you get the best deals on antique furniture, plus find out a great service here that can restore antique furniture to its former glory!